Staff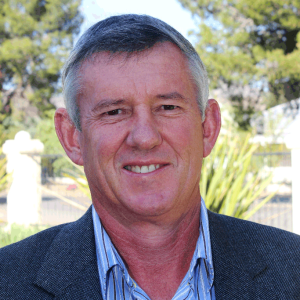 Braam Coetzee
Managing Director
Contact Number: 0824111592
Email: braam@konsortium-merino.com

Managing Director [B. Sc Agric (Hons)]
Braam Coetzee has more than 20 years experience in the sheep and wool industry: 11 years as a senior sheep and wool advisor, 6 years as abattoir manager and 3 years as MD of Konsortium-Merino (Pty) Ltd.
Braam comes from a sheep farming background in Namibia. He attended school at PK de Villiers in Keetmanshoop. He was headboy and played rugby for the national under 18 team. After school he went to Stellenbosch to study Agriculture and specialised in the feeding, breeding and management of wool sheep. In 1991 he began his career at the South African Wool Board as a sheep and wool advisor. During this period he was instrumental in the running of ewe projects which changed people's perception on the type of sheep that performed optimally and this eventually lead to his involvement with
Konsortium-Merino. As manager of Meatlands Abattoir in Colesberg he gained valuable experience in the marketing of meat and skins. Braam has been involved with Konsortium-Merino for a long time and served as MD for the past 3 years. He continually attends courses on investing, leadership and management and also does a lot of self study on these subjects.
He lives in Cradock in the Eastern Cape with his wife Marlize and two daughters. They operate a very successful guesthouse and accommodation business.
Braam also serves on the governing body of the school as chair of the financial committee. He loves to spend his free time with the family, play golf and paddle.