Previous Production Sales
15 September 2009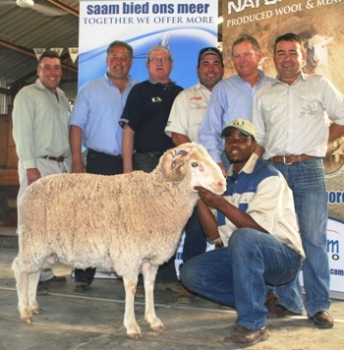 SOLD OUT! That was the case at the 17th production sale of Konsortium-Merino, held at Dombietersfontein, Victoria West. The 310 rams on auction were all sold at an average price of R5 199. This is, once again, a new SA record turnover for a Merino ram sale.
The sale's marketing slogan, Seeing is believing, struck a chord with all the rams being sold and at higher prices than before. Even so, there were still 150 good rams (on the Helmsman section of the Konsortium sale) for the flock farmer to buy at an affordable average of R3 500.
The highest price was R34 000. This was paid by brothers Hennie and Isak van Heerden and Jannie Olivier – all from Victoria West. Boetie van der Westhuizen and Melt van den Heever, from Loxton, joined forces to purchase the second highest priced ram for R28 000. The 722 ewes on the auction averaged R934 each with the highest price being R1 025 for two tooth Konsortium branded ewes.
This was the first auction the group held without the help of a broker after BKB elected, in June 2009, not to do the sale anymore. Their announcement was made shortly after the first Konsortium farmers delivered their wool to Segard Masurel. Karoo Vleisboere Koöperasie (KVB), from Victoria West, jumped at the opportunity to administer the sale and Jakkie Nel, Konsortium-Merino farmer mentor from Somerset East, was the auctioneer.
Kiepie Pienaar, Dewetsdorp, noted that private initiative triumphed. "The rams were tops, the auction was professionally staged and the service was excellent." He was surprised at all the new buyers present – proof that Konsortium-Merino is making inroads in the industry.
Price range
Total of rams sold
R2000 - R3000
52
R3100 - R5000
139
R5100 - R7000
74
R7100 - R10 000
34
R10 100 - R15 000
6
R15 000 +
5