Previous Production Sales
19 February 2009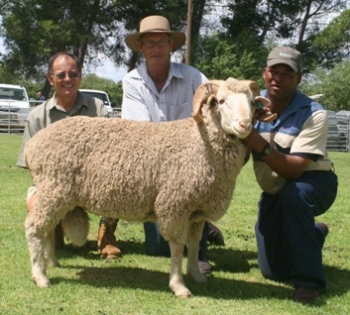 At Konsortium-Merino's 16th production sale the breeders sold 311 rams at an average price of R5 050.This was the fifth consecutive sale at which they bettered the SA record turnover for a Merino ram sale.

The team bravely offered 373 rams to be auctioned, at a time when farmers were faced with drought, low product prices and high interest rates. By using the Helmsman type auction, which is popular in Australia, they were able to offer this number in one day. Their main aim is to make more rams available at more affordable prices.

In total 154 rams were sold in the usual manner, in the shed at Dombietersfontien. The highest price was R26 000 and the buyer was Jannie van Wyk of Rooikop-boerdery, Fraserburg. Once the traditional sale had finished, the buyers went outside for the remaining 219 rams, which were sold via the Helmsman style auction. This is a "silent" auction. The rams are in groups of two, three and five, according to type and quality. Farmers are able to place bids on any of the groups and can improve on any existing bid. The highest bid and the buyer number are visible on a board. The Helmsman auction only takes about an hour.

Konsortium feels that this experiment was a step in the right direction. Their average price dropped from R7 333 (September 2008) to R5 050. This suited the buyers and Konsortium will definitely be developing their Helmsman auction.
Price range
Total of rams sold
R2 000 - R3 000
111
R3 100 - R5 000
129
R5 100 - R7 000
45
R7100 - R10 000
11
R10 100 - R15 000
12
R15 000 +
3