Previous Production Sales
15 February 2007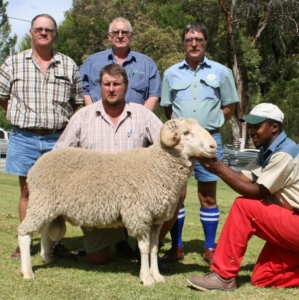 Konsortium-Merino attained a new record turnover for a Merino ram auction in South Africa, at their 12th production sale. This is only the second time in history that more than R1 million was realized at a Merino auction.
The 199 Konsortium rams, all sold for an average price of R5 613 each, totaled R1 117 150. The highest price of R36 000 was paid for a merit ram. It was bought by the Alexanders from Trompsburg: Freddie and Erik from Korthoek, Frans from Stofkraal and Derek from Hammelfontein.
Advocate Wesley Vos from Vosfontein, Beaufort West, bought a whopping 23 rams on the sale, paying R35 0000 and R22 000 for the second and third highest priced rams respectively. The 635 ewes on the Konsortium sale averaged R956. The highest price was R1 420 a piece for pregnant ewes with long wool. More than 300 people from far and wide, attended this auspicious event.
| | |
| --- | --- |
| Price range | Total of rams sold |
| R1000 - R3000 | 31 |
| R3100 - R5000 | 85 |
| R5100 - R7000 | 53 |
| R7100 - R10 000 | 17 |
| R10 100 - R15 000 | 7 |
| R15 000 + | 6 |