Previous Production Sales
16 February 2006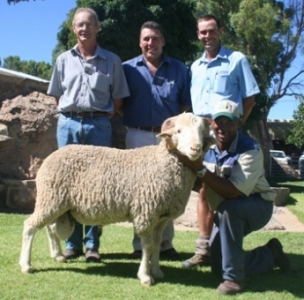 The 163 rams on offer at the 10th Konsortium-Merino production sale, were all sold, at an average price of R4 702. The 947 ewes for sale realised an average price of R703. The highest price, R46 000, was paid for a merit ram. Gerhard and Jaco de Bruyn, Jan Swiegers, Pietman van Heerden and Stefan Scholtz, all from Victoria-West, were the buyers of this ram, which was ranked 2nd out of the group of 278.
A group of farmers from the Eastern Cape joined forces to buy a silver merit ram at the 2nd highest price of R30 000. They are Tommy Roux and his sons, Piet and Jakkals Roux, Pierre and Kobus Marais, Johan Froelich and Matt Philps, all from Hofmeyer .
Michael Lord from the farm Souverein, Hofmeyer and the brothers, Lourens (Bella Vista, Tarkastad) and Albert van Heerden (Van Vuurenshoek, Hofmeyer) paid R27 000 for a silver merit ram - son of the SA Grand Champion ram and ewe at the 2004 National Show for Measured Production.
| | |
| --- | --- |
| Price range | Total of rams sold |
| R1000 - R3000 | 49 |
| R3100 - R5000 | 81 |
| R5100 - R7000 | 18 |
| R7100 - R10 000 | 10 |
| R10 100 - R15 000 | 2 |
| R15 000 + | 3 |