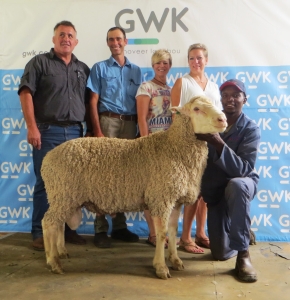 Highest price R80 000
At Konsortium-Merino's 30th sale, 18 February 2016, on the farm Dombietersfontein, Victoria West, this ram fetched the highest price of R80 000. Jacques Strydom Boerdery, Bloemfontein and Hennie van Heerden, Jasfontein, Victoria West, pooled resources to buy the ram. It is the highest price ever paid for a Konsortium ram.
The 337 rams on sale were all sold at an average price of R6 151. The 440 ewes fetched an average of R1 495. The highest price was R2 150 per ewe for pregnant branded ewes. André du Raan, Langford, Hopetown, is now the proud owner of these females. GWK ran the sale.
From left: Willie Meyer, GWK sales and properties, Gerio du Plessis, Konsortium-Merino breeder, Ncolene van Heerden, Jasfontein Boerdery, Marica Strydom, Jacques Strydom Boerdery. Thulane Tatebane shows the ram.