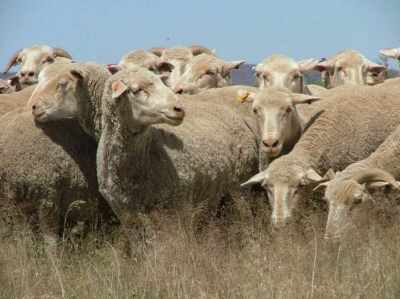 Invest in ewe units
Buy Konsortium-Merino ewe units. It is a safe investment in livestock, without having to be involved in the administration thereof, says Gawie van Heerden, marketing manager of Konsortium-Merino. He states that over the past 40 years, stock have grown by between 10% and 11% making it a good investment. Capital growth is determined by the market. The investor/farmer who owns the ewe units also gets 6,5% - 7% profit share annually.
Profit share
The investor buys ewe units from Konsortium Operations (KO). A profit share farming agreement is entered into between the investor/farmer and KO. KO manages the farming for the benefit of both parties. This agreement is valid for a minimum of 3 years. At the termination of the period entered into, the investor/farmer can renew the contract, take the value of the ewe units in cash or take the value in stock to carry on his own farming.
Value
The value of the ewe unit is determined by the ABSA feedlot lamb indicator. The investor will thus know the value of his ewe units on a monthly basis. In January 2015 it was R1496.38 per ewe unit. A twelve month rolling average is always used to determine the value. "It will thus never be a good or a bad time to buy units. Buy now!" is Gawie's opinion.
Structures
KO produces quality meat, wool and skins. The challenge is to grow ewe numbers to farm more effectively, bargain collectively and supply these quality products to the market in sustainable quantities. The groundwork has already been done and structures are in place to make a success of this branded farming enterprise.
A universal breeding policy, with practical and scientific farming practices, has been implemented to insure top genetics. Management- and grazing systems are in place and the Konsortium-Merino stock advisors and mentors see to it that the standards are maintained on all the farms – this insures quality. The risk is spread between the various farming units minimizing the risk to individual farming enterprises.
Grow with us
Due to the tough economic climate, not many farmers are in a financial position to increase their land and stock numbers. This model is the answer for the average size farmer, as well as any other investor, looking to systematically expand his farming enterprise. It is also the ideal opportunity for the "big" farmer to expand without the management hassles. The farmer can use his surplus ewes or capital to expand before tax.
Challenge
The challenge for Konsortium-Merino is to manage the ewes more profitably. Increased profitability will provide the investor with higher profit share potential. This is when a good investment becomes an excellent one. Profit will also automatically improve through collective buying, collective marketing and constantly adding value to the brand. KO is the perfect vehicle for these challenges.
A "Coke" is always a "Coke". In the same way, we want to establish a uniform Konsortium-Merino sheep. You then know what you are getting: "An adapted sheep, producing quality products, putting money in your pocket."