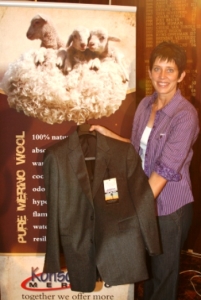 Proudly South African wool jacket
Konsortium-Merino now boasts their own Merino wool jacket which is 100% PROUDLY SOUTH AFRICAN from sheep to shop. Konsortium-Merino wool is produced in South Africa and locally washed, combed, spun, woven and tailored into cool, lightweight jackets. Not only are jobs being created, but value added to South Africa's agricultural products.
The classic style of the jacket suits every generation - old and young can wear it with flair. It is available in four colours: Karoo, Steel, Heritage and Plains. As far as the group is aware, it is the only men's wool jacket that is proudly South African in every aspect. Most of the wool clothing which is sold in South Africa, is spun and woven or even made overseas due to cheaper labour. According to Madelaine van Heerden, the force behind the jackets, even clothes that are made from South African wool takes a turn overseas before gracing our shop shelves.
She is of the opinion that the route which Konsortium-Merino took to make their own wool jacket was perhaps not the cheapest, nor the easiest - but definitely one worth while. The first jackets were made from cloth produced by SA Fine. However this year the company closed it's doors and Hextex, in Worcester, jumped at the opportunity to produce the cloth for next year's jackets. Approximately 20 micron Konsortium-Merino wool is washed and combed at the Segard Masurel mill in Uitenhage for the spinning and weaving process. House of Monatic, in Cape Town, makes the jackets which are available in mens clothing stores such as Stanwell in Bloemfontein, Coquis at the Centurion, Collonade and Glen Fair shopping centres in Pretoria, De Jagers in amongst others, Worcester, Paarl, Stellenbosch, Tigervalley, Oudtshoorn, George, Mosselbay and Friedman & Cohen in the Strand.
Several men who have purchased jackets testify that it is nice to wear. It is their preferred choice for the office, weddings, meetings or even for rugby matches. Dr Faffa Malan, a vet from Pretoria, likes wearing his jacket to workshops and training seminars. Jurie Taylor, headmaster at Beaufort West, enjoys the fact that it is lightweight, does not crease and always looks neat. The Cheetah rugby team is exceptionally happy with their Konsortium-Merino wool jackets and prefer to combine it with a neat shirt and denim trousers. The compliments they receive from the fairer sex are flattering.
The first time Tewis de Bruyn, scrumhalf, donned his jacket he said "this was made for me." De Bruyn says the jacket is smart – something the men can wear with pride after a match. Mr Hawies Fourie, assistant coach, grew up on a Merino farm and have a love for the Merino and for wool. "It really is a great priviledge for all of us to receive such beautiful jackets from such a grand product." Juan Smith of the Free State Cheetahs says that as a farm lad himself, it is a priviledge to wear a proudly South African product which adds value to farmers agricultural products and distinguishes them from the rest.
"Our wool story is 'green' and therefor it appeals to the European consumer who is aware of what he wears and eats... and is prepared to pay more for a brand that is produced in harmony with nature, creates jobs and subscribes to a Code of Best Practises", says Madelaine.