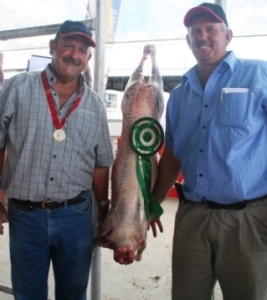 Bigger and better national slaughter lamb competition
Konsortium-Merino was instrumental in the largest national Merino slaughter lamb competition ever held. The group entered 352 of the 368 lambs judged at the national competition held in Beaufort West. A total of 98.9% (348) of the KM lambs graded A2 (315) or A3 (33). According to Mr Steve van Schoor from Samic, it was one of the biggest and best slaughter lamb competitions ever held and the KM lambs were of an outstanding quality.

"Konsortium-Merino has successfully encouraged the production of high quality red meat with regard to the relevant market needs. Their percentage of A2/A3 illustrates the quality of entries and Konsortium have now set a benchmark that will be difficult to improve." Steve van Schoor

KM walked away with all the slaughter lamb prizes. Wiese Viljoen from Victoria West was the winner in the individual carcass competition. The winning carcass achieved 94.5%. George Viljoen from Stutterheim was the runner up and Lourens van der Linde from Wesselsbron was third. Hendrik Botha from Cradock had the best group of carcasses with Johan Botha, Trompsburg and Deon Botha from Britstown in short succession.

Van Schoor said Konsortium-Merino has managed to encourage the production of top quality red meat - meat that is in demand from the South African consumer. The Nagiah group bought up all the Konsortium-Merino carcasses which were entered into the competition. The group, with seven butcheries in Gauteng and Durban, are allready selling branded Konsortium-Merino meat resulting in a premium for the producers.