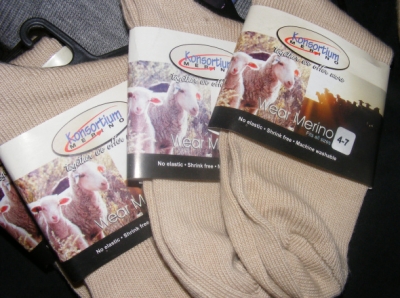 Konsortium-Merino: A farmer-owned brand
In 1998, four Merino breeders decided to pool expertise to fast-track breeding genetically superior and functionally efficient Merinos. Today, the farmer-owned business Konsortium-Merino not only sells the most rams at official Merino sales, it also aims to increase ewe numbers and its brand to 800 000 in the next 10 years. Annelie Coleman spoke with directors Gawie van Heerden and John Luscombe, and managing director Braam Coetzee.
South Africa's Agricultural scene has changed dramatically since 1994. How can farmers exploit the free market to their advantage and do you think the average south African farmer grasps the benefits of collective bargaining?
John: Farmers have the opportunity to find better, cost-effective ways of marketing products and adding value by branding and finding niche markets. The free market is driven by innovation, hard work and ingenuity. Competition provides the best product at the best price. Collective bargaining is a relatively new concept for many people, but they're starting to realise the potential advantages are huge. Konsortium-Merino's subscribed members are enthusiastic. They see the opportunities in establishing a respected brand representing quality, value, integrity and vision. Branding ensures reliability of specific quality standards. Once customers recognise the integrity of these standards, brand loyalty comes into play.

How did Konsortium-Merino come about and how do participating farmers benefit?
Gawie: We started out selling rams and ewes, but our emphasis evolved over time. We're now focused on establishing a Konsortium-Merino brand on farms throughout South Africa. The brand must represent quality mutton and wool, and innovative thinking to take the business to a new level. We're no longer just price takers, we're price makers because the product we offer is sought after. Collectively we can dictate the course of our business and aren't left at the mercy of market movement. Konsortium-
Merino offers buyers a platform to make offers to a large number of producers. So far, 98 farmers have signed up, with about 170 000 Merino ewes.
We're morally bound to supply a good product living up to the expectations of a premium brand. Recently, nternational wool buyers Segard Masurel offered to buy wool directly from our members. We're fine-tuning the ideal dual-purpose Merino. It has a large carcass and long, medium-to-fine quality wool. It's fertile and able to adapt countrywide. Our farming statistics, content clients and a countrywide demand for plain-bodied Merinos confirm we're on the right track.
How do participating farmers benefit?
Braam: For an annual fee of just R4/ewe, Konsortium provides a comprehensive service and safety net. This includes top Merino genetics, a 10% discount on all Konsortium-Merino rams, and advice on ewe and ram selection and flock management. We also provide a user-friendly, tailor-made computer programme. Members have the opportunity to market approved ewes and wool under the Konsortium-Merino brand. We plan to market mutton in the near future. All farmers are welcome to use the Konsortium advisory service.
What obstacles did you encounter in establishing Konsortium-Merino and what lessons did you learn which could benefit other farmer-owned businesses?
John: Roleplayers in the industry resisted change and wanted to maintain the status quo. Another obstacle was unfounded criticism and hostility from competitors. The national Merino flock requires at least 40 000 replacement rams a year. There's scope for everyone. When changing the way things are done, there are no definite outcomes. You must firmly believe in what you're trying to achieve. Problems present themselves, but with confidence in your ultimate goal you'll see these as challenges to be managed and resolved. As the business grows, so does the criticism. You learn to deal with that. Be positive and surround yourself with positive people. The incredible support and enthusiasm of Konsortium-Merino around the country gives us the confidence and inspiration to stay on track.
What are your plans for the future? Are these limited to South Africa?
Braam: We plan to increase ewe numbers under our brand to 800 000 in the next 10 years. Volume will create advantages for marketing wool, meat and genetics. We already have five top breeders in the team with 6 000 ewes supplying 900 top rams annually. The plan is to establish 50 more satellite studs with some 50 000 ewes to supply another 5 000 rams a year. Satellite studs will be supported and serviced by two Konsortium advisors. The first, Cobus Vivier, was appointed full-time in September 2007. We also plan to appoint 20 farmer-mentors to ultimately support and advise 500 commercial farmers with 800 000 ewes.
John: We're going into partnership with the Multi-Purpose Merino (MPM) group in Australia. On a visit to South Africa a few years ago, the group liked what it saw, particularly the combination of a good body with long, fine wool. We supplied embryos and have a joint venture going. The wool paradigm is historically so strong in Australia it's understandably difficult for farmers to see the benefits of
farming with a plainer type. But change is necessary because of mulesing restrictions and slaughter-lamb production. The MPM is making inroads as more farmers become aware of the benefits. The MPM also supplies genetics to the Ovis21 group in South America. Konsortium-Merino, MPM and Ovis21 have similar goals, creating an opportunity to share ideas.
How do you contribute to BEE?
Gawie: Konsortium-Merino is committed to uplifting its employees and the community in the hope they'll grow, be empowered and
eventually make a meaningful difference in their own lives and communities. In 2008 we started with adult basic education training for 30 employees. We want to expand to include practical skills development. We're working on our BEE policy and our aim is to form partnerships with developing farmers. We're committed to helping them successfully establish themselves as sheep farmers by providing advice and top genetic material.
The carbon footprint is becoming increasingly important, particularly for international trade. How do you plan to manage that?
Braam: We're committed to the wellbeing of the earth and encourage our members to subscribe to wool-production best practices to limit carbon emissions and ensure conservation and improvement of natural resources. For example, Konsortium wool will be marketed in locally manufactured wool bags using less nylon than the original bags. Not only will this create additional jobs, less nylon also means less greenhouse gas emissions.
John: With global food shortages looming, it's imperative we harvest food from the vast expanses of non-arable land. There is a perception only animals contribute to greenhouse gas emissions. Good grazing practices stimulate new green growth on plants. This means higher absorption of carbon dioxide from the atmosphere. Using animals to harvest veld could be carbon-neutral, releasing less greenhouse gas than mechanical harvesting. Konsortium-Merino, as a brand, can only function successfully if
it's managed with honesty, integrity and traceability. Our sheep will be tagged so every animal is traceable back to the primary producer. Approved and branded sheep get pink tags. Recommended ewes get purple tags. The Konsortium logo and clients' number will be on the tag as well as on a complete lambing record. Hopefully, affordable bar code technology will become
available so slaughter stock can be traced.