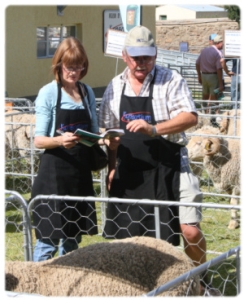 What Konsortium buyers have to say
Konsortium-Merino loves to share the testimonies of their supporters with you. This is what some of them have to say:

Hansie Swanepoel from Dewetsdorp: "I don't know exactly what you guys are busy with, but whatever it is, I want to be a part of it."

Pieter Human from Riviersonderend is extremely proud of the meat carcass of his current Merino flock. People constantly ask him "where did you get these Mutton Merino ewes?"

Dian Heyns from Oudtshoorn says that Konsortium-Merino completely flummoxed him. "I thought that only Dohne's could look like this!"

Gawie van Deventer from Albertinia says: "I should have made your acquaintance a long time ago." When selecting his entries for a slaughter lamb competition, selectors chose four of his Konsortium lambs and only one of his Dormer-cross lambs.

JR Schlebusch from Victoria West: "I can see the improvement in my sheep."

Konsortium rams were on display at an open day where Henry Moolman, Bedford, saw them. "When is your auction? I will be there."

Steven le Roux from Caledon got lost while en route to a hunt and pitched up at Dombietersfontein while they were shearing. "Just look how uniform and clean your wool is."

Pierre Jooste from Jacobsdal: "After visiting you, I am convinced that this is the way to go."

Frans Alexander from Trompsburg carries a little piece of wool around with him. It comes from the Konsortium ram which he purchased in February 2007 for the highest price. He proudly shows this wool to all and sundry.

Christo Marais from Edenburg sent this: "Now I'm really enjoying my Merino farming."

Abrie le Roux from Smithfield paid a visit to Harry and De Wet Vogel, while they were shearing. His comment? "The Vogels shear unbelievable wool."

Derick Erasmus from Stutterheim is over the moon with his high wool prices. He only wants plain Konsortium rams - they directly address type and micron.