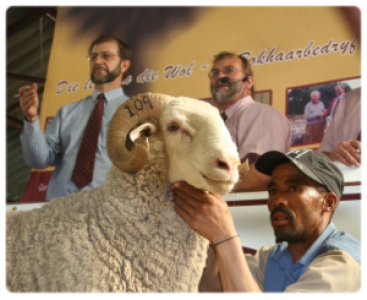 Together we offer more
During the past few years, nobody has been able to match Konsortium-Merino ram sale statistics. In February 2007, 199 rams were sold for an average price of R5 613. This was the highest ever turnover for a Merino sale in South Africa.
In February 2006, they offered and sold 163 rams. An average price of R3 106 was paid for the 161 rams on offer at the February 2005 sale and in September 2004, all 153 rams were also sold.

Since their first production sale, held in February 2001, these five Merino breeders have already sold 1 622 rams. This is an average of 135 rams per sale. The breeders will endeavour to increase this number, on condition that quality is not compromised. This move is in response to their flock farmers wanting more rams at more affordable prices.