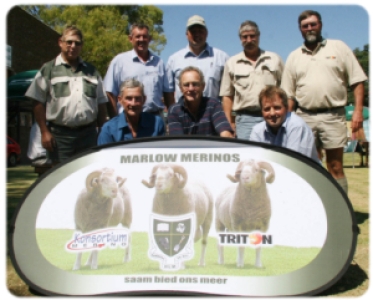 First joint sale a hit
At the first joint Marlow & Konsortium-Merino ram sale, held at the Marlow clubhouse on 23 February 2007, 56 rams were sold for an average price of R4 111. This sale has the potential to become one of South Africa's elite Merino sales.
The highest price of R16 000 was paid by a group of farmers from Hofmeyr. They are Matt Philps from Grootdam, Tommy Roux from Allemansvlei and his two sons, Piet and Jakkals, Pierre Marais from Vrolikskraal and his son, Kobus, and Johan Froehlich from The Pines. Hendrik and Billy van Zyl from Montague, Cradock, bought the second highest priced ram for R14 500.
Braam Coetzee, BKB Cradock, says this first joint sale was a great success. It has the potential to become one of South Africa's elite sales. According to him, the wool quality was outstanding. Buyers that Braam chatted to afterwards were very impressed with the quality on offer and assured him of their continued support.
Of the 61 rams on offer, 28 were Konsortium progeny of the Marlow stud and 33 were pure bred Konsortium-Merino. The Konsortium rams were taken to Marlow when they were a year old so that the group could run together under the same conditions, in preparation for the sale. The first step toward this joint venture was taken in April 2005, when all the Marlow stud ewes (approximately 500) were artificially inseminated with semen from 10 Konsortium stud rams.