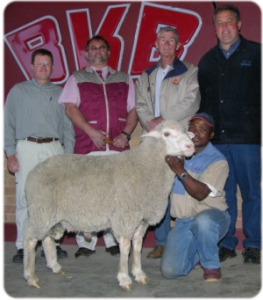 Poll fetches top price
On the second Triton Poll Merino sale, held on the 10th August 2006 in Bloemfontein, a ram from the Konsortium-Merino group, once again fetched the highest price. Wikus Bekker of Geluksdam, Edenburg, paid R36 000 for this merit ram.
Brothers, Lomon and Nicolas van Tonder, and Hansie Swanepoel, all from Dewetsdorp, bought the second highest priced ram for R35 000. This was also a merit ram bred by Konsortium-Merino. Phil van der Merwe, Konsortium-Merino studmaster, was so excited about this poll which had attracted the attention of the Dewetsdorp buyers, that the Konsortium decided to buy a share in the ram. All 47 rams on offer were sold for an average price of R5 780.
The Triton sale is held annually in Bloemfontein on the second Thursday in August. The breeders are: Konsortium-Merino from Victoria-West, Eddie Prinsloo of Heuningkrans, Smithfield and Eric Naudé of Leopardsvlei, Richmond.