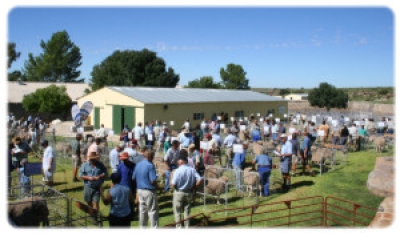 Sell most rams in SA
Konsortium-Merino annually sells the most rams on offical Merino sales in South Africa. A total of 1 279 rams were sold on the past ten production sales, for an average of R4 010.
For 519 (41%) of the 1 279 rams Konsortium buyers only paid between R1 000 and R3 000. About 41% of them sold for between R3 100 and R5 000. This means that for 1 043 (82%) of the 1 279 rams, farmers paid less than R5 000! The highest price paid for a Konsortium ram was R46 000 in February 2006, when a group of farmers from Hofmeyr and Cradock pooled their resources. The second highest price was R33 000, paid by the brothers Piet and Dennis Louw from Jagersfontein.
The sales lure farmers countrywide. They come from as far afield as Riviersonderend and Uitenhage in the south, Barkley-East and Stutterheim in the east, Calvinia in the west, Memel and Vrede in the north and especially from the Free State, to participate in Merino-festivity.